New Student Orientation
Welcome. We are glad you are here.
There is a lot to learn about being an LMU Lion, and you will have our support along the way. LMU has prepared a collection of resources for new students and their families to help ensure a more seamless transition. Visit this page to access important orientation resources, including informational videos and virtual events to help cultivate meaningful connections.
New Student Convocation
with Executive Vice President and Provost, Thomas Poon, Ph.D.
Meet LMU senior leadership and be warmly welcomed to the Lion family as you start your education at LMU. The recorded livestream from our Sunday, August 23, 2020 event can be viewed here.
View
Loyola Marymount University promotes Cura Personalis: the education of the whole person in mind, body, and spirit. To explore the opportunities for nurturing your personal, academic, and professional developments, we invite you to make meaningful connections and gain access to important resources, prior to beginning classes in August. All virtual events are optional, but are highly recommended. To get into the spirit, download LMU backgrounds for our virtual time together.


Schedule of Events
ASK US ANYTHING
hosted by Career and Professional Development
Get insider tips from industry professionals and recruiters during a live panel discussion.
Careers in STEM • VIEW
Careers in Film and TV • VIEW
Careers in Liberal Arts • VIEW
Careers in Media and the Arts • VIEW
Careers in Business • VIEW
ACADEMIC CONNECTIONS
hosted by LMU Colleges and Schools
Inquire about your academic interests and get tips for a successful year.
LMU College of Communication & Fine Arts • VIEW
LMU Bellarmine College of Liberal Arts • VIEW
LMU School of Film & Television
LMU College of Business Administration • VIEW
LMU Frank R. Seaver College of Science & Engineering
LIFE OUTSIDE THE CLASSROOM
hosted by Student Affairs
At LMU, life outside the classroom is also called the Student EXPerience. The LMU Student EXP has five pillars you may engage, experience, and develop. Explore each pillar by participating in a series of activities that delve into LMU student life.
Commit to Service and Justice
Become a Global Citizen
Practice Ignatian Values • VIEW
Integrate Mind, Body, and Spirit • VIEW
Live a Life of Purpose
CAMPUS MINISTRY MEET & GREET
hosted by LMU Mission and Ministry
Come together with people from unique backgrounds and faith traditions to engage in meaningful conversations with LMU Campus Ministry staff and student leaders.
LION SPIRIT RALLY
hosted by LMU Athletics
Show your Lion pride with chants and cheers. Parents and family are welcome.
ORIENTATION GROUP HANGOUT
hosted by Enrollment Management
Discover campus life through the perspective of current students and build friendships along the way. Look for an email from your Orientation Leader with your virtual hangout time.
July 29 | See email for times
August 6 | See email for times
August 18 | See email for times
August 27 | See email for times
Welcome Kit: Bring LMU Conversations Cards (July 29); LMU Bingo Cards (August 6)
International Orientation
Hosted by the Office for International Students and Scholars (OISS)
WELCOME TO THE PRIDE
August 24 | 6:00 p.m., PDT
Meet your new international Lion family! During this session, learn from fellow Lions about how to make the best of your LMU experience, regardless of where you are in the world.
CULTURE SHOCK
August 25 | 8:00 a.m., PDT
Hear from fellow international students about cultural differences they experienced when living away from home and taking classes at a university in the United States.
CLASSROOM CULTURE
August 26 | 6:00 p.m., PDT
What should you wear to your online classes? How should you communicate with professors when you have questions? Learn about classroom expectations in a virtual environment and be ready for the first day of class.
OISS PROGRAMS & SERVICES
August 26 | 8:00 a.m., PDT
Meet the OISS staff to learn about the support, community, and services offered to you. The second half of the session will focus on immigration regulations for F-1 visa holders.
INTERNATIONAL GROUP HANGOUT
August 26 | 9:00 a.m. or 6:00 p.m., PDT
Discover campus life through the perspective of current students and build friendships with other international students. This session includes a question and answer session with International Orientation Coordinators.
Orientation Welcome Kit
Welcome materials will be mailed to all new undergraduate students. Students with an address outside the U.S. and Canada will pick-up their full kit on-campus.
LMU Foam Finger
Show your Lion pride and bring this foam finger to our virtual Spirit Rally on Thursday, August 20. Parents, family members, and loved ones are welcome to attend.
LMU Sunglasses
When in California, these cool shades are a must-have accessory for bright, sunny days and breezy beach weather all year round.
LMU Pennant
Say it loud... Say it proud... LMU-YOU-YOU-YOU-YOU. We are so happy to have YOU here. Now it is time to settle in and get acclimated. Make us home with this room décor.
Bingo Card and Conversation Deck
Drop by our Orientation Group Hangout for an icebreaker and get to know your classmates much better. Bring your Bingo and Conversation Cards for some fun entertainment!
LMU Pin
Student Convocation is Sunday, August 23. Parents, family members, and loved ones are welcome to participate in the pinning ceremony tradition. Bring this pin with you.
DOWNLOAD WELCOME KIT ACTIVITIES
The Orientation Welcome kit contains important information about orientation and contain items that will be incorporated into our live, virtual events together. Be sure to read up on what to expect and please bring the items with you during some of the virtual events. For those who have yet to receive the orientation welcome kit, you can download the activity items below.
Virtual Orientation Schedule Campus Map Conversation Deck Bingo Card
Onboarding Resources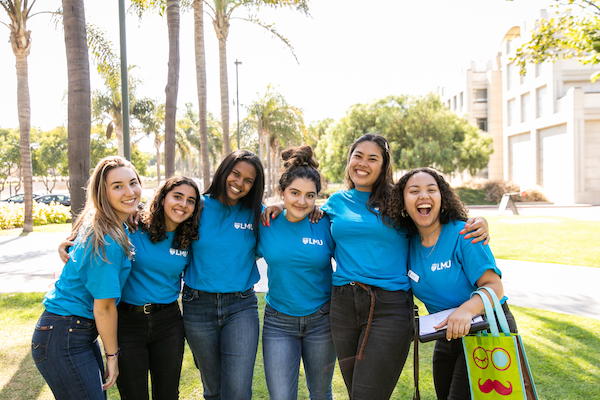 The LMU Orientation Programs team welcomes students and their families to Loyola Marymount University and are available to help provide a more seamless transitional experience. Along with faculty and staff, there are ample resources to help prepare you for the upcoming fall semester. Should there be any additional questions, please contact us at orientation@lmu.edu.
Parent Orientation Modules
To help parents and families get more acquainted with LMU and support their new LMU Lions succeed through the academic journey, the LMU Parent and Family Orientation video series will be an informative resource accessible on demand. Parents and families may view these resources at their convenience, in the comfort of their own homes.
Get Started
Student Orientation Modules
As part on of their New Student Orientation onboarding experience, students will view a suite of videos and complete a few introductory quizzes from the Future Lions student portal. Completion credit will be given and students may work at their own pace. All onboarding videos must be completed no later than August 15 to ensure you are fully prepared for classes to begin on August 31.
Get Started
Connect with us @LMUadmission on Social Media
#LMUOrientation